About Immersed Technologies
Immersed Technologies provides innovative learning and design solutions for your training and publication needs. We work with you to determine the right solution based on your community of learners, the real-world application of the content, your brand, your budget, and your objectives. Then we go about making it happen. We've been at it a long time and we do it well.
From our start in 2002, we've been passionately committed to bridging gaps between the learner and the information they need to know. We use the best available technology, and on occasion, we have created it ourselves. For us, it's always been about successful outcomes for our clients. To ensure this, we live and work by our values.
Loyalty, reliability, performance excellence, and integrity are carved in stone ethics that define, shape and guide us in all that we do. It's the basis for all relationships among our team members and with our customers. It's the foundation for success.
We Measure Our Success By Your Success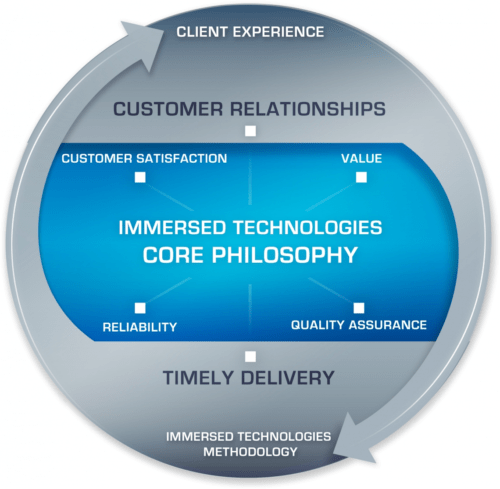 We measure our success by your success. Long after our deadlines for you have been met, we remain onboard and available to advise and assist you in meeting and exceeding your company's training goals. It's this brand of focused loyalty that keeps our clients returning to us, time and time again. They know they can count on us and they know it's as much about character as expertise.
Immersed Technologies is a veteran-owned and operated company. Founder Mike Brock and partner Joel Frankwick, United States Naval veterans and information solution experts, lead the Immersed Technologies team. We've assembled an experienced and skilled team that embodies the values we believe in and we've built a culture that fosters excellence, innovation, creativity, problem-solving, discernment, accountability, and daring.
Mike and Joel didn't build Immersed Technologies and its reputation by chance. It's hard work. It's intentional. Each day we diligently work to hold ourselves and our team to the highest standards, to exceed client's expectations, and to continue to grow and learn as we seek to help others do the same.
Many of our team members have been working together for over a decade. You'll know us by our in-the-trenches rock solid camaraderie, fierce excellence, and unwavering professionalism. We bring it with us everywhere we go and wherever we are. It's who we are…Immersed Technologies.